Kim Barrick: Finding Yourself with Paint. April 28-30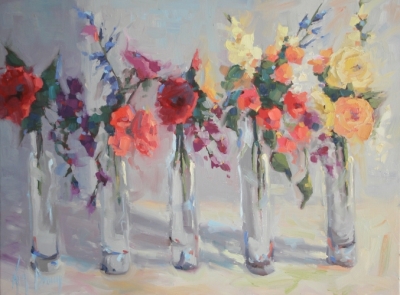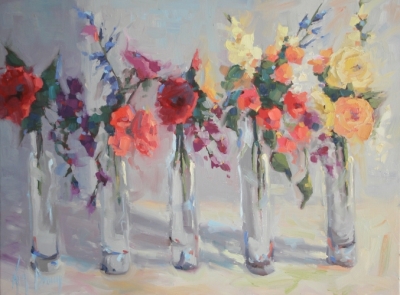 sold out
Kim Barrick: Finding Yourself with Paint. April 28-30
Thursday, April 28th Demo and Chat: 5:30-8:30 pm
Friday, April 29th: 9 am-4 pm
Saturday, April 30th: 9 am-4 pm
Kim Barrick, one of Nashville's most inspiring teachers is back at Warehouse 521.. Barrick's encouraging spirit is not to be missed. While she demos Thursday evening she will chat about her passions and artistic adventures. Friday and Saturday will be two days of intensive hands on painting for students.
This 2-day hands on workshop is designed for beginning and intermediate artists searching to create unique personal works of art. Using creative still-life set-ups, students will work on developing their own artistic voice as they master new skills working with canvas, paint and brushes. New artists will learn good habits to build confidence. Experienced artists will move closer to their artistic identity. Blocked artists will get unstuck openingthemselves up for the next level of expression.
To see more of her work, visit www.kimbarrickstudio.com
Biography:
Kim Barrick (b. 1960) is as diverse and complex as the work she creates. The artist deflects labels, challenges authority, and pursues her passions with wonder. Barrick's art has been described as impressionistic and expressionistic while remaining representational, "alive with light and filled with movement," words that could be applied to their creator as well.
Never a follower, Barrick's fresh style is as authentic the artist. Finding the light with loose brushwork andthick paint has earned esteem from both collectors and students. . Recognized early in her career as a "Top Talent" in 2008 by Santa Fean Magazine, this award winning artist is also a sought after instructor of landscape and still life. In addition, her recent wildlife paintings have received acclaim, painting from her own photographs taken while on location painting. A native of Colorado and resident of Tennessee, Barrick travels West frequently and maintains homes in both states. Her work is represented by galleries in the South and West. Her numerous artworks are held in private and corporate collections throughout the US and Europe.
In 2001 Barrick founded The Chestnut Group, plein air painters for the land. www.chestnutgroup.org widely recognized as the premier plein air/conservation art organization. In addition, Barrick was instrumental in establishing Wild About Colorado plein air festival supporting The Continental Divide Land Trust.. She is a signature member of PAAC Plein Air Artists of Colorado. She also serves the land she loves on the Friends of Radnor Lake Board of Directors.
To be placed on the waiting list, please email Jeanie at warehouse521@gmail.com. Thank you!