Jim Himsworth: Full Color Portrait Class. 6 Wednesday Mornings; January 18 - February 22nd. 10 am - 1 pm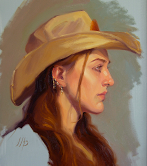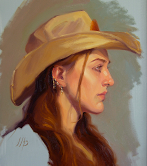 sold out
Jim Himsworth: Full Color Portrait Class. 6 Wednesday Mornings; January 18 - February 22nd. 10 am - 1 pm
Wednesday Mornings
10 am - 1 pm
Class Instruction: $325
includes $50 model fee
 
Portrait Painting is arguably the most rigorous genre of representational painting because it requires mastery at many levels, most notably acute seeing and accurate drawing. Because portraiture has too many facets to study here, we will limit our goal to painting the Portrait Study.
Quick portrait studies from life are often essential aids for creating a successful, finished portrait. Learning how to manage drawing, value, color and edges in a condensed time period and still capture a likeness is our goal. Although all skill levels are welcome, this course is not recommended for the beginner.
Jim will display Portrait Study samples, demonstrate his method for the class and assist students on an individual level. His recommended supply list is located below.