Aimee Erickson: Get Your Color to Sing! 4 Day Workshop: June 19-22, 2019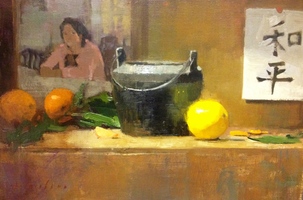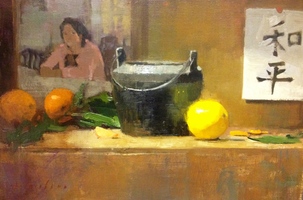 sold out
Aimee Erickson: Get Your Color to Sing! 4 Day Workshop: June 19-22, 2019
June 19-22
Wednesday-Saturday
$575 incldues model fee
*This workshop is now FULL. Please fill out the registration form below and submit to be placed on the waiting list. A deposit is not needed for the waiting list unless a spot opens up. Thank you!

What makes for really great color in a painting? How do we translate what we see into an appealing color composition? If your painting has beautiful color and beautiful brushstrokes, it will contain a beauty that can override weakness in other areas. This workshop gives oil painters the chance to better understand practical color problems. Learn your eye's bias and how pre-mixing can set you up for success. You'll be given several tools that you can use to continue your color study after the workshop. We'll do plenty of exercises and paint directly from still life setups. Color studies with demonstration and exercises with a live model on the last day.
Instructor Aimee Erickson is an award-winning painter and a natural teacher. She has the ability to meet students where they are, and delivers instruction in a way that makes sense.
SKILL LEVEL Appropriate for all levels; true beginners are advised to familiarize themselves with tools and materials, including french easels, before class starts.
BIOGRAPHY:
Paris-born, Oregon-based oil painter, Aimee Erickson, takes a practical approach to painting. Trained as an illustrator in BYU's Visual Communication Design program—where learning to draw was a requirement— she thinks in terms of creative problem-solving and intention. Her paintings are informed by fundamental design principles and an interest in abstract paint quality and color.

After college she sought instruction from various painters and has studied with Sherrie McGraw, Burton Silverman, and at the Florence Academy with Joseph Paquet. Her influences and favorites include a lot of old-school illustrators and traditional painters, as well as some composers and poets.
Over the years Aimee has worked at a variety of artistic endeavors: First as a scenic designer, and then as an expert freelance architectural color consultant, muralist, designer, and art instructor. Her mural projects include several school murals and one at the Multnomah Arts Center, ranging from forty to 180 feet long, all done with the help of hundreds of volunteers applying paint using Q-Tips to create a mosaic-like effect. Aimee is the first woman artist to paint an Oregon gubernatorial portrait, that of Barbara Roberts in 1997. She is the current Artist-in-Residence at the University Club of Portland.
To register for this workshop, please fill out the Registration Form and submit, then pay the deposit online or by mailing a check to Warehouse 521, 521 Heather Place, Nashville, TN. 37204. Any questions, email jeanie at warehouse521@gmail.com. Thank you!
Aimee Erickson 2019 Workshop Registration Form
Aimee Erickson Workshop Registration